Online freight forwarding and daily price inquiry with Cargoboard
With the online platform Cargoboard you have direct access to the CargoLine forwarding network. With just a few clicks and without registration, you can calculate your freight prices and order transports.

Vorteile mit dem Cargoboard Versankostenrechner
With the Cargoboard freight cost calculator you have various options in the inquiry and handling of your transports. The most important advantages are:
Digital access to the CargoLine network
Online price information on freight prices and transit times
Transport configuration according to your wishes
Simple commissioning of transports
Online track & trace
Payment methods such as PayPal, credit card, invoice payment and instant bank transfer
John-Spedition Price calculator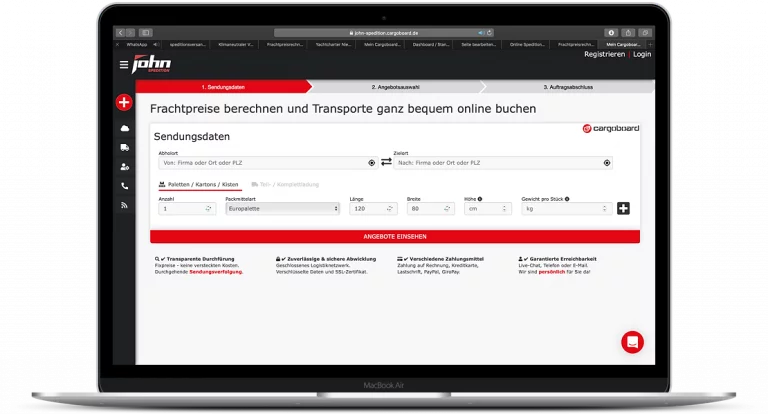 Functionality Cargoboard
1. Freight price inquiry
Using the price calculator, you enter the pickup and delivery location of your shipment in the first step. After entering the packaging and shipment dimensions, you will receive prices for various transit time products without prior registration. When entering address data, Cargoboard uses Google's address database, which is why you can also enter company names in the input mask.
2. Shipment booking
After entering the necessary data, you have the option of choosing different term products. Furthermore, you can select the exact pick-up date and add additional products such as insurance or notifications.
3. Order completion and shipment processing
In the last step, you check the shipment data and add contact persons if necessary. To complete the order, you decide on a means of payment and confirm the data entered. You will then receive the barcode label for the shipment on the platform and by e-mail, which you must print out and attach to the goods so that it is clearly visible. Your shipment will then be picked up by us or, in other regions, by the responsible CargoLine partner, loaded via the CargoLine network and delivered.
4. Questions about your shipment
If you have any questions about your shipment, Cargoboard's service team is at your disposal, which you can reach via the platform in Live Chat or by phone or mail.
Cooperation John Spedition, Cargoboard and CargoLine
Cargoboard is a start-up of the logistics network CargoLine, which has made it its business to offer logistics services online. For this purpose, Cargoboard has launched a transport platform that enables companies to handle their shipments completely digitally with just a few clicks. The shipments are loaded via CargoLine's general cargo network. As your partner in the region, John Spedition is responsible for the Fulda area and thus part of the CargoLine network.